Welcome to Summer Camp 2017!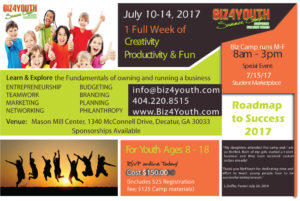 Welcome to Biz4Youth Summer Camp 2017. We have another great program lined up this year!
Students will be immersed into one full week of learning and exploring the fundamentals of owing and running a business. Some of the topics include Entrepreneurship 101, Marketing, Business Technology, Planning, Budgeting, Networking, Leadership, Philantropy and more.
Camp is best suited for students ages 8-18 and will be based at the Mason Mill Recreational Center in Decatur, GA for the week of July 10 – 14, 2017 (M-F) from 8am to 3pm daily.
Parents and Guardians, space is limited; please REGISTER early. Online Registration opens June 1, 2017 and closes once all spots are filled.
Join us at an upcoming Open House on June 1 or 29, 2017 to learn more about this year's program. Click Here to RSVP today.